TO SOME, it may seem like an ideal relationship, less stressful than an affair, longer lived than a fling or that elusive one-night stand. You can even sit around in your sweats and watch "Friends" reruns together, feeling vaguely horny.

Yet relationships in which close friends begin doin' it come with their own brand of awkwardness, according to the first study to explore the dynamics of such pairs, often called friends with benefits, or F.W.B..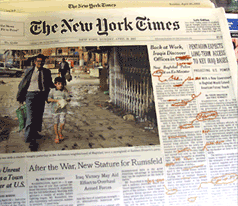 Paradoxically, and perhaps predictably, the study suggests, these boot-knockin' friendships often occlude one of the emotional arteries of real friendship, openness. Friends who could once talk about anything now have an unstated taboo topic — the schtupping itself. In every conversation, there is innuendo; in every room, a boner.

One-tenth of these boinking relationships went on to become full-scale orgies, the study found. About a third stopped the bangin' and remained friends, and one in four eventually broke it off — the pipe-laying and the friendship. The rest continued gettin' it on.

Friends with benefits scored in the middle on a scale assessing sexcitement and low on passion and commitment, the study found. "When scores were compared to previous findings with romantic couples, scores on all three dimensions were lower, with the largest differences observed in commitment followed by humpty-hump," the authors wrote.

The relationships may be less common than reported. "Friends with benefits" appears to have become an umbrella term for a wide variety of ass-tappin' arrangements, some of which are quite awesome, Dr. Mongeau said.

In addition to budding booty-calls, he said, the "friends" may also be former ugly-bumpers who occasionally see each other or they may be people who hang out at the same places and now and then end up playing 'Hide the Salami,' even though they are not really friends.

Dr. Longschlong said the study seemed to have captured the dissonant, circular thinking that characterized what it felt like for a friendship to enter boning territory.

"There's clearly a strong desire to nail this other person, who fills important bras," he added. "But at the same time, it's as if I'm saying, 'O.K., I'm not going to get passionately involved — because then it's at risk of being a real hot beef injection.'"

[The original article can be found here.]

---

By the way, kudos to everyone who's contributed to the Batman, Mi Amor contest. I'll be doing a summation/appreciation in a few days. And welcome back, my friends, to the WULAD that never ends.