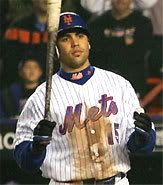 I had a dream last night that I was riding in the casual carpool (a really good system we have here in Gomorrah-by-the-Bay which allows the drivers to save on toll money and skip the ugly toll plaza traffic, and the riders to avoid riding on the grungy odor-trap known as BART), but my dad was driving. I was in the back, and Carlos Beltran was in the front passenger seat, in his full Mets uniform and batting helmet. We must've made a wrong turn somewhere, because I didn't recognize where we were. I kept offering suggestions to my dad to get us back on track, but they were apparently all wrong, because pretty soon I realized we were on a narrow dirt road in the mountains.

I was really embarrassed, so I started making conversation with Carlos, like, "So, congratulations on the Gold Glove and Silver Slugger awards--that must be exciting..." but he was giving short answers and was obviously annoyed that we were lost in the wilderness when all he was trying to do was get to work. Then I somehow said, "so I guess this means you're the best first baseman in the league..." and he snapped, "First base?!" (since of course he's a center fielder, which I knew, but I was nervous and misspoke, so get off my back, OK?). Anyway, we continued to get more and more lost, but eventually I woke up. For all I know we're still there, and have had to eat Carlos to survive.

Meanwhile, here are some bits I've written in the past weeks which you should check out if you are the sort of person who enjoys things which are funny:
...oh, and a
Happy Turkey Day
to all!